BOXES, TAPE & SUPPLIES
Need some boxes to help with the move process?
What about tape and packing supplies?
We have that too. Our goal is to make the moving process as simple and easy as possible.
We offer 4 different sizes of standard boxes to meet your needs – Small (16x13x13), Medium (18x18x18, Large (24x18x18) and XL (24x24x18)
What about that closet… wardrobe boxes are your best bet and we have those too.
Need some extra protection for your TV as you and your buddy carry it down a few flights of stairs?  Make sure you pick up one of our TV boxes.
Don't forget that bubble wrap to keep your grandma's glassware safe, some extra tape – because you always need more than you think and a sharpie or two so you have some sort of idea what ended up in which box.
Not sure what exactly you need, don't worry – we get it.  Start with our moving kit which includes a little of everything to get you started.
Stop by or call your local store to ask about prices.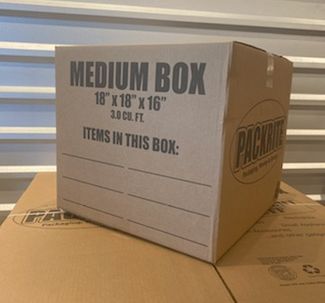 Packing & Moving Supplies
Packing & Moving Supplies
Moving & Packing Supplies FAQ
What items does Discovery Storage have available to assist during move-in?
We have platform carts, two wheel dollies and an enclosed loading bay to make move in as simple as possible.
How strong are Discovery Storage's moving boxes?
Very durable! But also check out our plastic crates - easy to rent, environmentaly friendly, and easy to open and close - no tape required.
Can I buy supplies in bulk?
Sure - we sell our boxes in large bundles.
Can I buy supplies online and have them waiting for me when I move-in?
Of course! When you go through the move-in process on line, just select the supplies you would like and they will be waiting for you in your unit.